After registering in the clubhouse and then make your way to our Footgolf course and play around our 9 hole course using a size 4 or 5 football in groups of up to five. The object of the game is to get the ball into the hole using only your feet in the fewest number of shots possible. Combine power and precision to get the ball in that hole!
To book your round call us on 01279 843558
Footgolf fees
9 holes 18 holes 9 holes 18 holes
Juniors Under 16 £6.00 £8.00 Adults £8.00 £10.00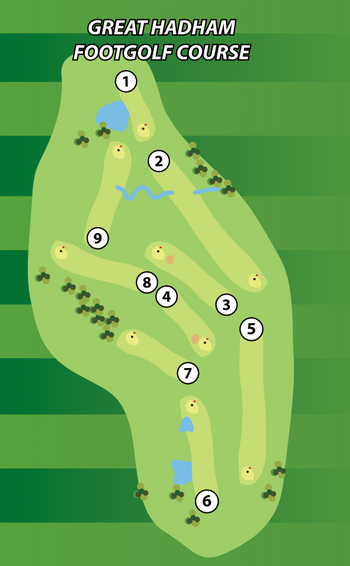 The basic Footgolf rules:
Review the score card and wait for your turn. Make sure your kick will not interfere with other players
The ball must be played in a single movement. Your foot should should be set separate from the ball, clearly behind, before the kick
Wait to play until the ball has completely come to rest. It's not legal to stop the ball from rolling with the wind
Kick off your ball from a position up to two metres behind the hole tee markers. The order is established based on the score of the previous hole. The player with the best score will be the first to kick off on the next hole followed by the second, etc.
Play the ball from where it lies: you're not allowed to move the ball or remove jammed objects. Exception: You may mark the spot and lift the ball when it may obstruct the other players kick or ball in any way.
The player farthest from the hole, is the first to kick the ball
If the ball lands in a water hazard, and it's safe to do so, retrieve or replace it within two steps from the closest land point from where the ball entered the water, receiving one penalty point; or you can place the ball at the position of the previous kick and receive one penalty point
Only on the green may the balls be picked up to be cleaned or replaced.
What to wear
We ask all footgolfers to wear a collared shirt and either plain shorts or trousers. You can also wear 'traditional' golfing clothing.

We recommend that you wear astro turf style footwear or trainers with good grip. Football boots with studs, blades or cleats are not permitted.
FAQs
Can I bring my own ball?
You can bring your own football to play at Great Hadham Footgolf Course as long as it is a standard size 4 or 5 ball. Alternatively, you can borrow a ball on the day for a £5 deposit which is refundable upon return of the ball.

How long will a round of FootGolf take?
Great Hadham has a 9 - hole FootGolf course that can be played once or twice, each 9 holes will take around an hour to complete, depending on your experience of the sport and the number of people playing.